Precision styli "Made in Germany"
Siebert Automation high quality styli ensure the highest accuracy throughout the entire production process. Due to the large number of options in materials and variants up to custom made products, we can supply you with styli for almost every application at a reasonable price and also at short notice. The production of the styli is certified according to DIN EN ISO 9001:2008 and "made in Germany" for the systems of leading manufacturers of coordinate instruments and gear measuring instruments.
Siebert Automation Quality
Uncompromising in terms of quality and performance, reasonable in price: with our own products, a gap is closed in the Siebert Automation range. Here you obtain reasonably priced alternatives and extensions to the original products of almost all current manufacturers.
The styli of Siebert Automation represent:
■ Best quality
■ Reasonable price
■ Fast delivery
■ Made in Germany
Applications:
■ 3D measuring machines
■ Processing centres
■ Measuring arms
■ Tool machines
100% compatibility:
We stock compatible styli for the measuring systems of the following manufacturers that are at least equal in quality and function to the originals.
■ Blum
■ Faro
■ Haimer
■ Heidenhain
■ Klingelnberg
■ Leitz
■ Marposs
■ m&h
■ Renishaw
■ Zeiss
Special solutions for special measurement tasks
In addition to the standard styli, Siebert Automation offers meaningful extensions, adapters, accessories as well as custom made solutions for a perfect stylus configuration for your measurement task.
Types of stylus and accessories:
■ Straight stylus
■ Disc stylus
■ Star stylus
■ Cylinder stylus
■ Adapter
■ Breakers
■ Extensions
■ Accessories
■ Custom made products according to your requirements
Shafts
The styli from Siebert Automation are manufactured in various shaft materials for the most diverse measuring tasks. They enable reproducible results and exact process stability in production technology.
Shaft lengths:
From 5.0 mm to 475.0 mm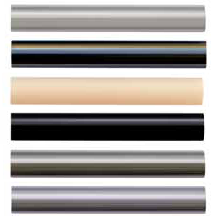 Shaft materials:
■ Aluminium
Light, for use in temperature stable measuring rooms.
■ Carbide
Rigid for all standard applications in stable ambient temperatures.
■ Ceramic
Light and high strength material. For long stylus elements in higher temperature environments.
■ Carbon fibre
Light, high strength and stretch resistant and for highest process accuracy. Ideal for long stylus elements, extensions and complex stylus configurations. Recommended temperature range: 15°- 45°C.
■ Steel
High strength, the material strength is around 1100 N/mm², for the most exact measuring tasks, e.g. as reference stylus elements during adjustment.
■ Titanium
Very light and high strength metal. Used for connections and extensions in many combinations and joined to each other in a high strength manner by means of modern laser welding processes at the connection points. For stylus configurations that require the highest stiffness and stability.

Balls
The balls of our styli are manufactured according to the spherical tolerance standard of precision class 5 or better of the American Bearing Manufacturers Association (AFBMA). The result is a high precision and reliable measurement result. Our balls are mortised with the shaft and are additionally glued with a special procedure. By means of this we achieve the best stability and longest useful life.

Ball diameter (Ø):
From 0.2 mm to 30.0 mm

Ball materials:
■ Ruby
Long lasting, smooth, pressure resistant and mechanically corrosion resistant sphere material in standard measuring applications.
■ Silicon nitride
Wear resistant ceramic material with extremely low surface roughness, which prevents adhesion of adhesive. It is, for example, not attracted by aluminium, so there is no abrasion of material on the surface of the ball during scanning.
■ Zirconium oxide
Material with special surface finish. In wear and hardness similar to ruby. Especially suitable for scanning abrasive surfaces such as cast iron components.
Stylus shapes other than balls are made of high strength steel or ceramic.
Thread
Connection thread:
■ M2 // Ø 3 mm
■ M3 // Ø 4 mm
■ M3 XXT // Ø 4 mm ( Zeiss)
■ M4 // Ø  7 mm
■ M5 // Ø 10 mm (Renishaw)
■ M5 // Ø 11 mm (Zeiss)
■ M5 // Ø 12 mm (Leitz)
■ M6 // Ø 16 mm
■ Special solutions
Questions to any product
Call us!
Phone: +49 8105 772 87 0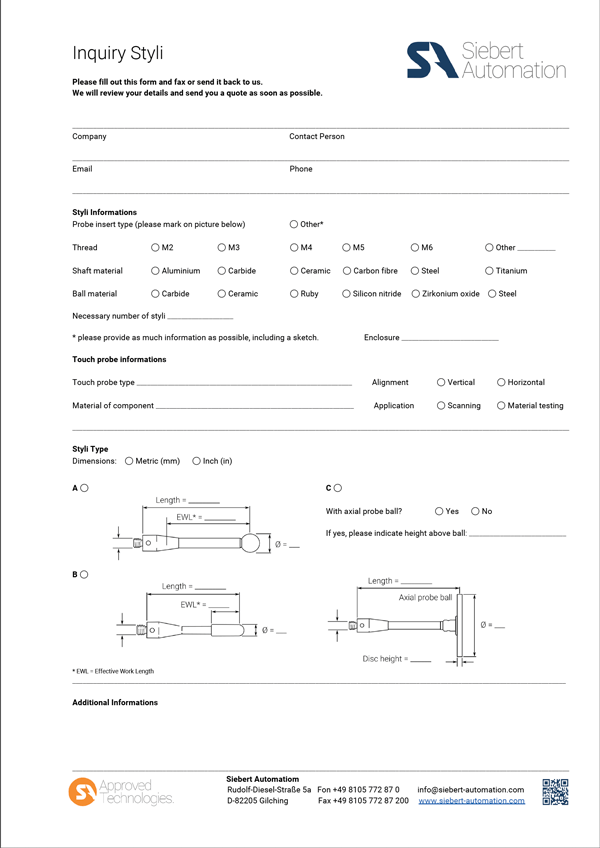 Styli and special designs from Siebert Automation.
Contact us now.
■ Accurately manufactured
■ Highest quality materials
■ The most varied configuration options
for the most diverse measuring tasks